Delhi Israel Embassy Car Blast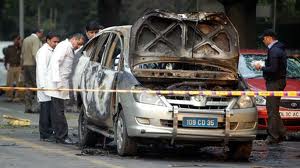 New Delhi: On Monday, a day before Valentine day, there was an attempted assassination of an Israeli diplomat in New Delhi. Four were injured in the Israeli embassy blast in New Delhi. One of the injured was a wife of Israeli diplomat and is in ICU.  As per the Dr she has suffered spinal and liver injuries and had undergone two major surgeries. Israeli Prime Minister Benjamin Netanyahu has accused Iran and its Lebanese ally Hezbollah for this attempt.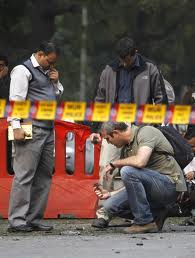 After discussion with Delhi Police Commissioner and review meeting on Tuesday, Home Minister P Chidambaram said that the attack was carried out by a very well trained person.
Delhi Police looked at the CCTV footage from the places nearby and the preliminary investigation into the attack on the Israeli Embassy car in Delhi suggest that only one man on motorcycle was involved in this attack. This seem to be work of a highly trained person who attached the bomb to the running Innova car of the Israeli Embassy.
India has condemned the attack on Israel Embassy on Indian Soil.