Rahul Dravid Retirement News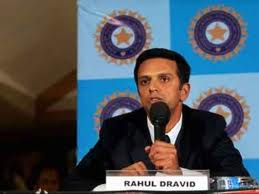 BANGALORE, INDIA : The 39 year old Rahul Dravid, the Great Wall of Indian Cricket Team, has now been officially retire from all formats of International Cricket – ODI, T20 and Test Matches. He announced his retirement from Test Matches during a Press Conference at his home ground i.e. M Chinnaswamy Stadium, Bengaluru. After the horrific tour of Australia in 2011-12, both for Dravid and Team India,  he had announced his retirement from test as well as domestic cricket on 9 March 2012. Rahul Dravid at present is the second most run getting machine after Sachin Tendulkar and has the record of highest number of catches in test matches. Rahul Dravid made his test debut in 1996. With an average of 52.31 Rahul has scored 13,288 runs in 164 Tests since then, with 36 centuries. He also holds the world record of 210 Test catches.
After the Australia tour there has been speculations – will Rahul Dravid Retire or will V V S Laxman Retire or when will Sachin Tendulkar retire. Out of the three, Rahul  wanted maintain his dignity and announced his retirement. Three trio of Indian cricket team Tendulkar, Dravid and Laxman will never roar again.