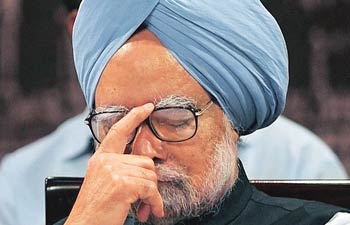 Washington Post Controversially Termed Manmohan Singh As "Tragic Figure"
It is presumably a hard time for Manmohan Singh, the soft spoken and recluse prime minister of India. Time and again this veteran politician has to face disheartening and excruciating comments from his red eyed critics who seem to find his performance as a prime minister too frail and deplorable. Very recently the celebrated Times Magazine put him on the face of canons by calling him "The Underachiever". As if it was not enough, the Washington Post sentenced him to calumny once again by featuring him as a real "tragic figure' in the arena of Indian politics. A UK based daily even went a few steps ahead in this blame game and directly slammed Mr. Singh as a 'Puppet' or 'Poodle' of madam Sonia Gandhi.
The recent trail of corruption under his reign is considered to be the chief reasons for this ruthless bombardment of these negative comments. The Congress party under his leadership has purportedly been involved in a vicious trail of corruption. The controversial contracts in the Commonwealth Games, the scandalous Coal Mining Scam or Coalgate issue and Nuclear deal are some of the unfortunate events that have completely shattered the image of the party and that of the supreme leader.
Though the veteran as well as respectable politician has not been directly linked with any of the scams taking place in his government, yet the elderly politician could not evade being ruminated as a 'silent' one. His critics are in no mood of appreciating his silent as well as ineffectual role over the corrupt occurrences which are taking place one after the other. It is pretty evident that the principled, sagacious and humble entity has fallen from grace. This is why towering opposition leaders such as Sushma Swaraj, Mukhtar Abbas Naqvi and others are vehemently asking for an immediate resignation from his end. It has been reported that the regular procedures of Indian parliament have been severely thwarted on this crucial issue.
Till now the firing from opposition, cynics and critics continues to unhinge the equilibrium in the party. It will go on until some proactive and productive initiative is taken.