Agni V (ICBM) Launched from Wheeler Island on Thu, April 19, 2012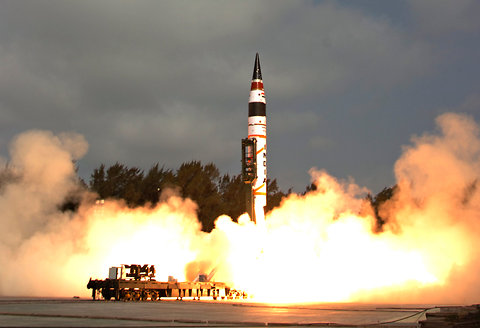 India had successfully launched Agni V, a new nuclear-capable missile from Wheeler Island off the coast of Odisha. India's Agni-V missile has a range of 5000 kilometers and was successfully test fired at Wheeler Island on Thursday, April 19, 2012. Agni V is India's first Inter Continental Ballistic Missile or Intercontinental Ballistic Missile (ICBM) and has a longer striking range that could strike main cities of China like Beijing and Shanghai.
Ranges of Missiles Agni II, III and V: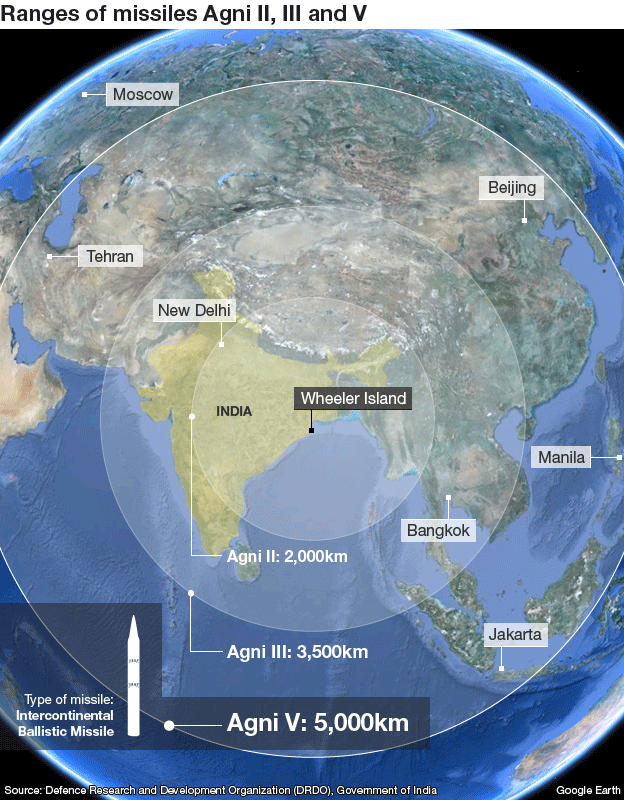 Praise to Scientists of DRDO for Agni V Test Launch
Scientists of DRDO (Defense Research and Development Organization) that have worked on and developed the Agni V missile were praised by the top bureaucrats and politicians.
After the successful launch A.K. Anthony, Defense Minister who has been busy solving the issue of bribe in Army arms supply, told the DRDO Chief Vijay Kumar Saraswat on phone, "The nation stands tall today. We have joined the elite club of nations (to possess the Inter-Continental Ballistic Missile capability)".
Sonia Gandhi, the Congress President of India also congratulates the scientists for the successful launch of the missile Agni V. Sonia writes to the Defense organization about the successful launch of Agni V. Sonia Gandhi states that it is a pretty accomplishment for the country. She also appreciates the staffs and scientists for the event. The congress states that the launch is a part of UPA's leadership to get success.
After the event, congress ensures to claim authorship of the missile launch program. The spokesman says that the success of launching is a bright testimonial of the foundation laid by the leadership of congress party. The slow number of reforms is putting congress in a defensive ground. He also states that the missile test is underscoring the political power of UPA to extend its parameters with communication all around the world.
Watch Agni V Launch Video:
httpv://www.youtube.com/watch?v=wep97PjIbmM